13 Apr 2023
GWEC and EnergyNet enter into Partnership in Anticipation of Wind Energy Growth Across Africa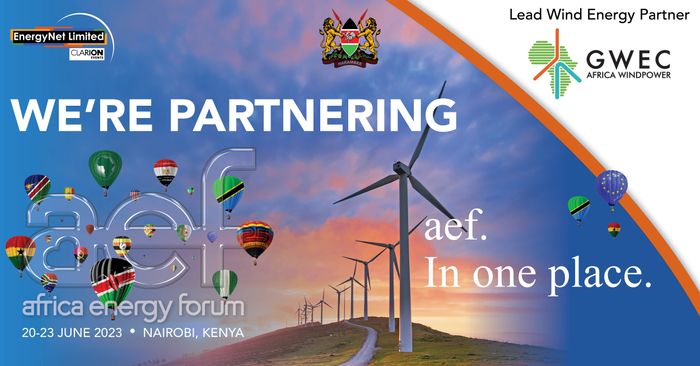 13 April, 2023. Nairobi, Kenya. The Global Wind Energy Council and EnergyNet, the organisers of the Africa Energy Forum, have entered into a partnership that offers Africa's wind energy industry a crucial platform to advocate for the technology as part of Africa's present and future energy mix. As such, GWEC's Africa WindPower initiative, supported by GET.invest, has been made the official 'Lead Wind Energy Partner' for the event.
The partnership highlights a recognition of the role that wind energy is set to play in spurring Africa's sustainable economic growth, from investment to job creation and local supply chain opportunities. Despite Africa's tremendous proven wind resource, only 1% of the globe's wind farms are found in Africa. However, many countries across the Continent are poised for an upsurge of wind energy installation in the coming years, from the more established markets such as Egypt, Morocco, Kenya and South Africa, to the nascent wind markets of Namibia, Mozambique, Zambia, Tanzania, Tunisia, Mauritania, Nigeria and Ghana.
Wangari Muchiri, GWEC's Africa WindPower Director, commented that "wind energy has so much to offer Africa as a driver of sustainable economic growth. As an African wind industry, we have already shown that we can provide people with clean and reliable electricity, make business, industry and entire economies more competitive, all the while decarbonising energy systems. From the Taiba N'Diaye wind farm in Senegal, to Lake Turkana in Kenya to Jeffrey's Bay in South Africa, wind energy is already making a positive difference across the Continent - it is just not well enough understood yet. We look forward to engaging with public and private sector stakeholders at the Africa Energy Forum in Nairobi to discuss the opportunities that wind energy can bring."
The Africa Energy Forum brings all segments of the Continent's energy sector under one roof, including the key drivers and partners for wind energy. This covers complementary forms of clean energy such as solar and hydropower, enabling technologies such as battery storage and green hydrogen, private industrial offtakers and an oil and gas industry increasingly ready to invest in wind.
Michael Franz, GET.invest Team Leader stated: "On behalf of our contributors - the European Union, Germany, Sweden, the Netherlands and Austria - we are proud to support the Africa Energy Forum through GWEC's Africa WindPower to drive further investment for wind energy in Africa. This partnership aligns with GET.invest's key objective of mobilising renewable energy investments at scale and our mandate as the Team Europe One Stop Shop under the Africa-EU Green Energy Initiative, bundling European contributions to green energy in Africa."
George Hudson, Portfolio Manager & Head of Corporate Development Africa, EnergyNet added: "We are delighted to partner with GWEC at this year's Africa Energy Forum (aef) in Nairobi. This will be the first time the Forum has ever been held on mainland Africa in its 25-year history and it is vital to partner with organisations like GWEC to bring awareness to the opportunities wind energy presents across Africa. aef will see over 2,500 of Africa's key public and private sector decision-makers meet to discuss the challenges and opportunities facing the continent's energy sector, and our partnership with GWEC provides a unique opportunity to engage with globally-recognised market-leaders operating in the wind energy space. We look forward to working with GWEC at aef to bring awareness to the opportunities for investment in wind energy across Africa, and to highlight the increasing contribution of wind energy within the continent's energy mix."
About GWEC Africa WindPower
Africa WindPower is the Global Wind Energy Council's initiative to accelerate the deployment of wind power in the African continent. AWP is an Africa-based organisation, focused on the promotion of zero carbon, cost competitive, wind energy across the African Continent, with the ability to draw upon the expertise and knowledge of the global wind energy industry. AWP combines the expertise and knowledge of the global wind industry with 'on the ground' experience and know-how in the region, working closely with the companies and organisations that make up GWEC's Africa Task Force.
Africa WindPower was founded by the Global Wind Energy Council and is supported by
GET.invest
, a European programme that mobilises investment in renewable energy in developing countries, supported by the European Union, Germany, Sweden, the Netherlands and Austria.